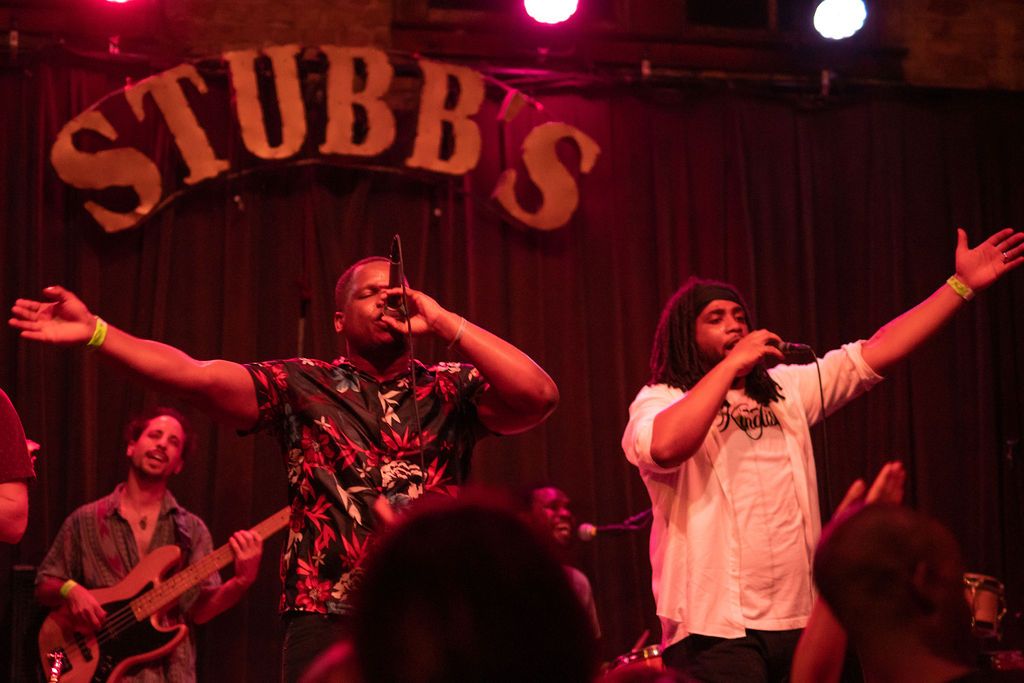 Photos by Riley Sklar
Nearly halfway through the set Willie Barnes II, set his microphone down and jumped down into the crowd, the audience formed a tunnel as he danced back to the back of the room, the band on stage keeping the groove going, the audience stretching their heads to the back of the crowded room to catch a glimpse of the roving party maker who soon enough was climbing back on stage mic in hand as the band pushed together into another tight chorus.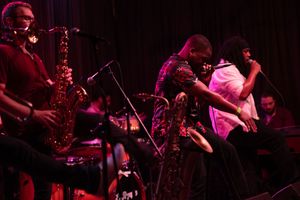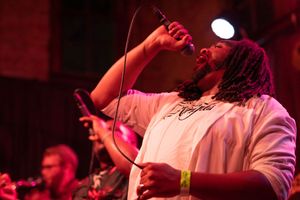 I looked over at Riley, his camera in hand. "This is so fun!" I said. 
Riley smiled back with cool ease, "If you aren't having fun here, you are never going to have fun".  
I scanned the room, didn't seem like anybody had that problem, everybody was moving and grooving and smiling.  
You can't help but smile at Honey Made. It's hard not to delight at their athletic musicianship, their infectious hooks, or hairpin turns between the entire canon of funk feels - hard funk, hip hop grooves, or James Brown - you name it, they did it. If that was all it was, I'd still call Honey Made a great band, but it's more than that, it's their willingness to bring you into the fold that makes seeing Honey Made a great _time_. 
As each song went along you felt just a little bit cooler than when you came in - more in touch with everyone around you, a part of the band, a part of a community. The way that happened was so well done. All three vocalists Willie Barnes II, Donald Ford Jr, and Chris Barnes had a way of talking with the audience and not to them. I felt like the third point in a triangle between the two front-men. It felt like an overheard conversation between two close friends and an invitation to join them. I have no idea if that was just an extension of how cool those guys are or extremely well-orchestrated stagecraft or both, anyway about it - bravo, it totally worked for me.  
About those vocals. Ford and Barnes were as comfortable in their high falsetto register as they were belting out audience-rousing "hey's" and James Brownish band call outs. The interplay between the two was mesmerizing. That's saying a lot when there were 10 extremely accomplished musicians on stage that could draw your attention with either their finesse or overt mastery of their instruments.  
I think one vocalist working as hard as Donald or Willie is phenomenal, two is mind-melting. I am telling you - come see these guys, you will be blown away by their musicality and how much energy they bring to the stage.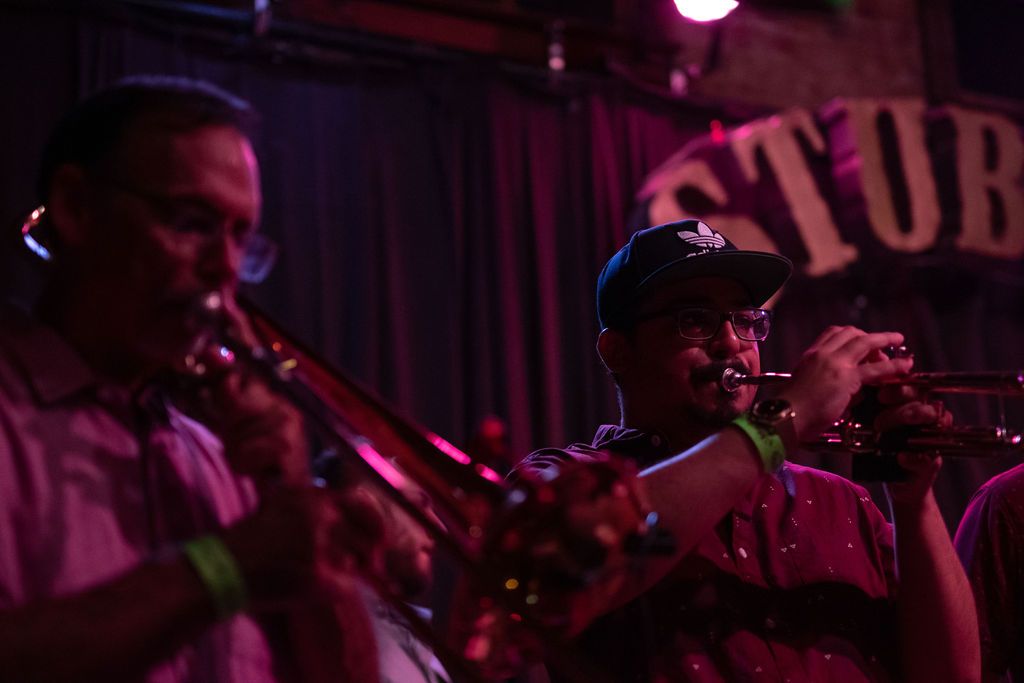 One of my favorite things about Honey Made was the brass. The arrangements were spot on - taking on a supporting role underneath the vocals while also developing interesting motivic ideas (small musical gestures with intent). However, when it was time for the horns to come forward - boom, there they were - in unison lines or filling out the sound with warm chord tones or counter melodies. We were treated to great playing from Bari and Tenor Sax player Dustin Hunter, trumpet player Joseph Morrow and Trombonist Donald McDaniel.  
Another key element was the backline which is essential to all funk and soul. A funk rhythm section needs a lock - for me, that was drummer Chris Barnes, his playing on songs like the fast funk 'Love Machine' and the later Samba breakdown was right where it needed to be. The world of the singing drummer is a tough one, guitarists and bass lead singers have some tone next to their body that they can draw on to find pitch, not so for the drummer, and Barnes did a phenomenal job with his lead and backups.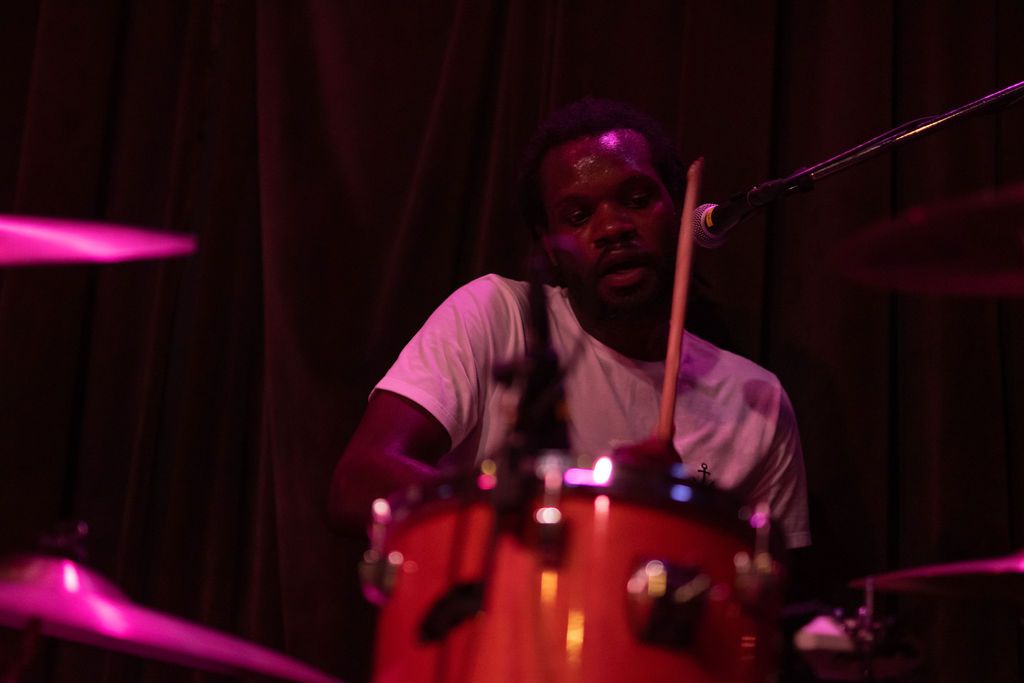 There were memorable spotlight moments during the set as well - including a number of clutch keyboard solos during the show including some talkbox effects in there just for fun. David Thacker's keyboard set up included a Nord synthesizer in a wooden organ shell, an awesome bit of instrumental costumery - that would've completely fooled me if Riley hadn't been right up against the stage photographing to know differently. 
Guitarist Elliot Liebman's guitar headstock was covered in a lei (leftover from an earlier gig at Oskar Blues), that visually communicated something quirky and fun about his personality, a nice touch. We got to hear a little more from him on his stellar solo on a slow 6/8 groove. It was melodic and virtuosic with a fabulous telecaster crunch tone. It even had a moment of fretboard tapping ala Van Halen. Pulling that off (hey-o! guitar pun) in an R&B tune tastefully was a feat, but seemed no problem for Liebman.  
I was dumbfounded by a solo from Lee Braverman on bass. I initially thought he was doubling the keys but I think it was a pedal altered octave effect. Beyond the intriguing sonics of his bass, there was hyper-precise playing executed at an incredible clip. This was a complex solo that had echoes of Jaco Pastorius' work from Weather Report. Very complex motivic thought going on and one of the best bass solos I remember hearing ever. I think I may have gasped aloud. No joke.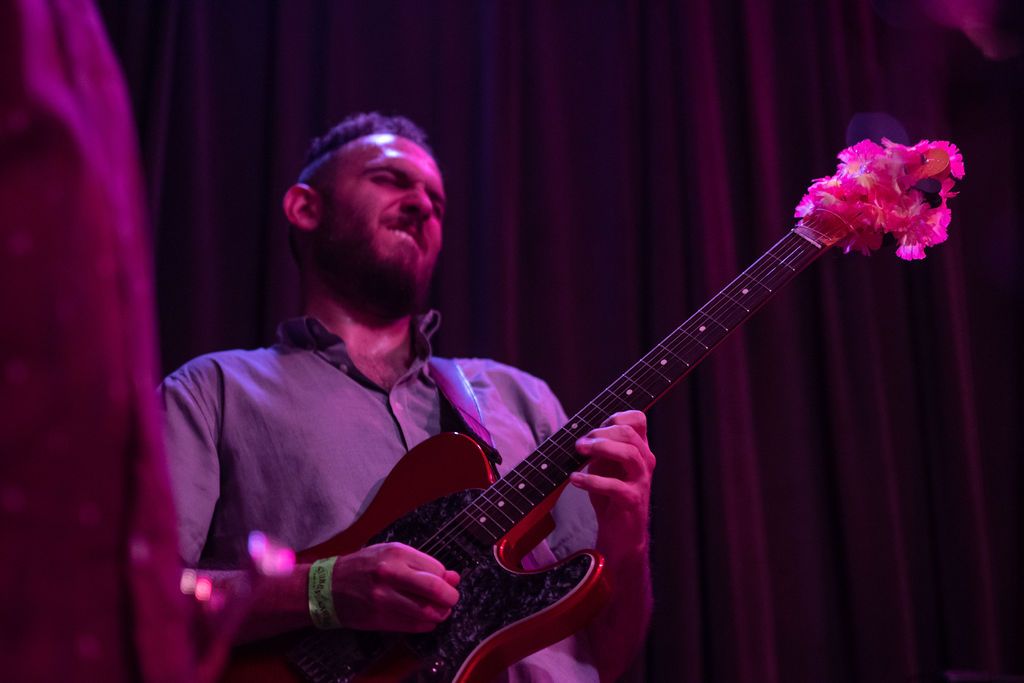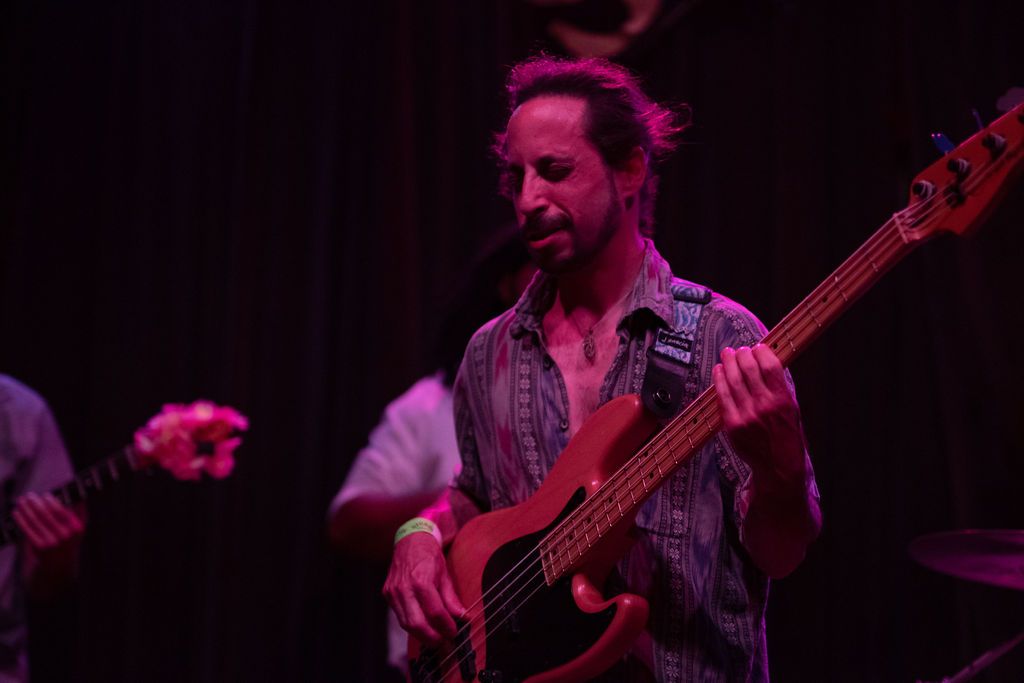 Perhaps most subtly, percussionist Wesley Gonzales reliably cut through the grooves with an arsenal of percussive delights. During the set, I remember thinking, "damn, those toms sound amazing" and realizing that it was both Barnes on drums and Gonzales on timbales creating that sound. Being an ensemble player and having two musicians speak with the same voice is exactly the kind of thing a player like Gonzales can achieve. He and drummer Barnes shared a percussion duet towards the end of the set where Gonzales was given moment in the spotlight to shine as a soloist.   
Tunes like "Steppin' Out" had the entire audience moving from left to right mirroring the entire band's Blues Brothers soul review dance steps on stage. The 60s spy-like groove of "Ashy Pockets" felt downright Pink Panther-ish which they doubled down on with a bari-sax solo. By the end of the night, the whole audience was waiting on cue from Willie and Donald to jump up and down in sync.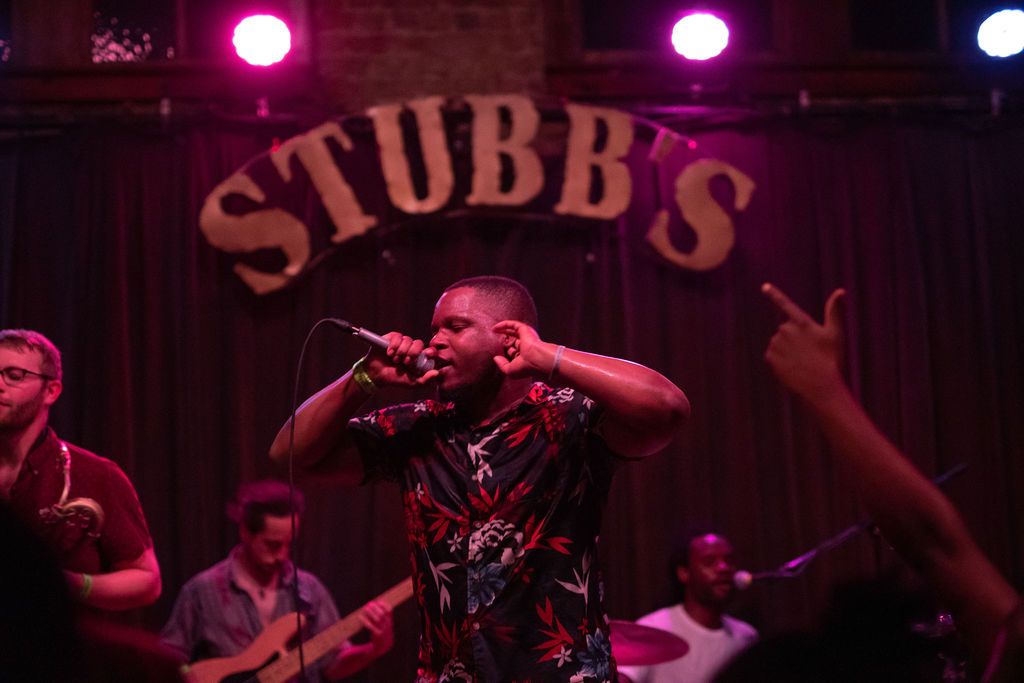 Photo by Riley Sklar
Throughout the night I kept thinking back to my brief time in Houston, Texas. I lived for a year in this house near a Baptist church. Every Sunday for a number of hours, you would hear this hypnotizing pulsing bass and drums emanating from that church. Even though it was down the street, from my living room, it still began to seep into my mind, a hypnotic mantra of music. Sitting there on the couch I would think: wow, that rhythm is bringing people together, unifying them, letting them work as one instrument. On Saturday night I got to experience that feeling again, that was us, that was the audience, that was Stubbs, that was Honey Made.
What's playing at Stubbs?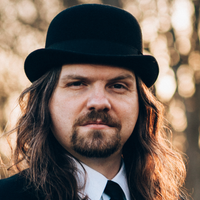 David Diers writes Rock n Roll love letters in Austin, Texas. David has won awards for his reporting, and fiction writing. You can find him on stage leading his own band, The David Diers trio or in the audience enjoying Austin music at its' best.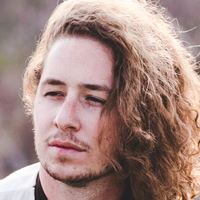 Riley Sklar is an Austin photographer specializing in live music, corporate events, weddings & engagements, commercial products, and portraits. You can find Riley playing drums in the David Diers trio or in the audience snapping photos of Austin's best musical acts.