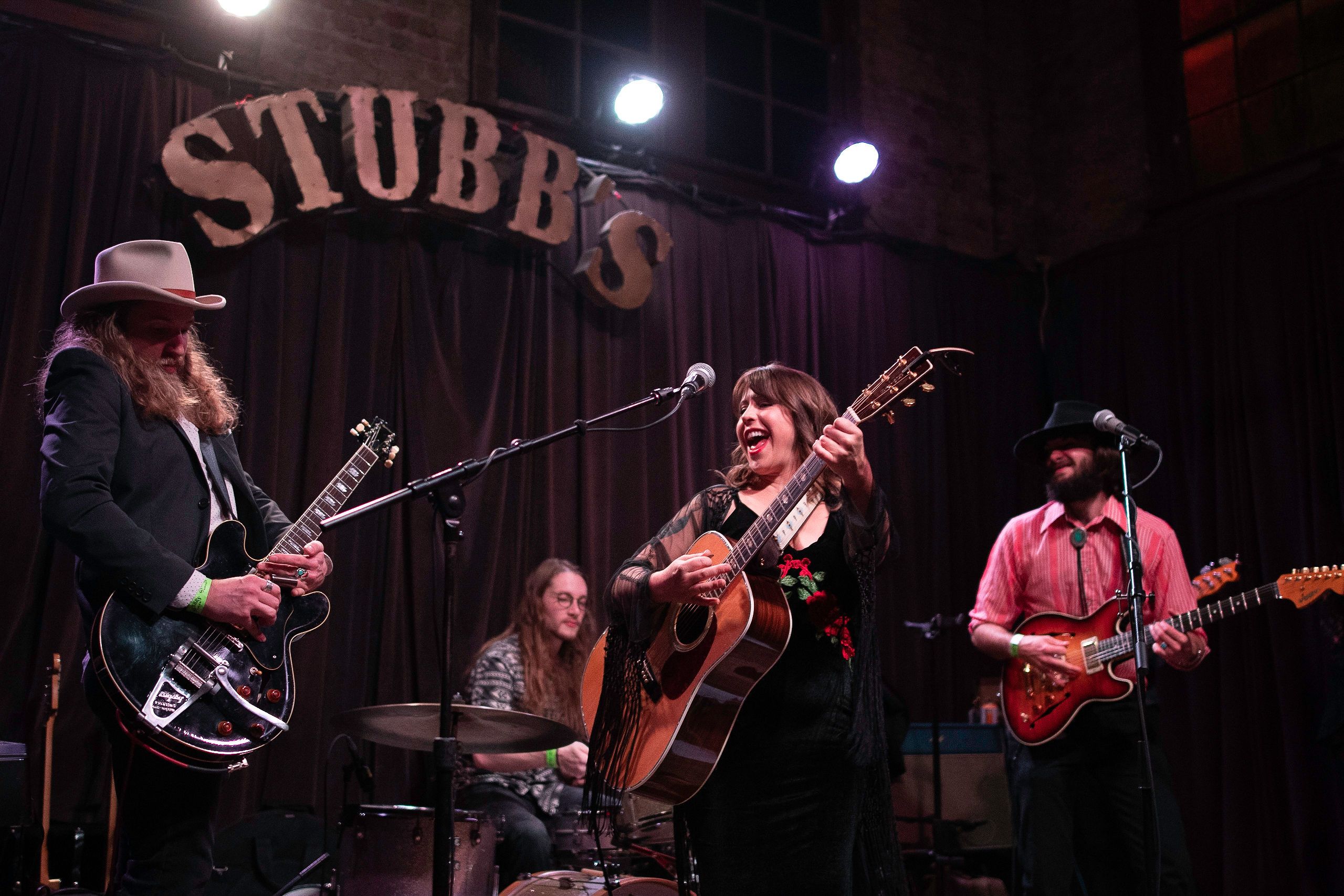 Photo by Riley Sklar
I've never been a regular. I love the idea though. It's knowing and being known; having a well-worn path; holding the stories, names and faces of a place. People calling out "Norm" when you come into the bar. 
Seeing a band enough times that I know their music through their live set is new to me. It's fortunate that band is the Watters. I've been treated to an ever-evolving set of arrangements since they parked their southern souls here in Austin (from Arizona). They've paired up with numerous stellar players over that time, the one constant being Daniel and Jenna Watters, both skilled singers and musicians.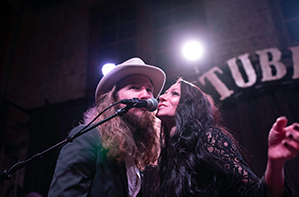 My latest opportunity to see the Watters was at Stubb's indoors on December 20th for a night of Blues, Soul and Funk with the Reverent Few and Honeymade. 
The Reverent Few's performance—and their look—painted a portrait in light and shadow. Lead singer, Paige DeChausse's raven locks tousled down onto her long decorative sleeves. She stood next to guitarist Nick Boettcher. He was crowned in a Western-style hat, with a beautiful Bigsby-mounted semi-hollow guitar in hand. The two of them reminded me of the classic western setup: hero and chanteuse - they even had the white hat! 
This duality of light and shadow is also a part of the Delta Blues. Where the very same people carousing at the honky tonk on Friday night sit penitent in their pews on Sunday. The Reverent Few played to that perfectly. They mixed slithering blues and spiritual sounding tent revival rhythmic ostinatos seamlessly.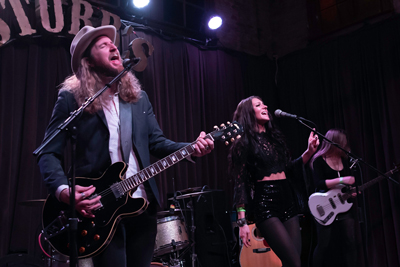 Bassist, Amanda Darnell, plucked out room-filling grooves on her white SG bass, her fingers skipping across her strings as she swayed, only to suddenly violently thump on them as her head thrashed about. Drummer John Kalny steadily guided the band through crescendo waves of volume and intensity, spinning up into full-kit fills as he would draw down to solid time-keeping; his use of dynamics was especially good. 
Nick would claw and slice at his guitar, holding his pick between his first finger and thumb and using the rest of his fingers to grab the strings to pull them through thick chords, giving way to slinky single lines. Nick is a talented guitarist. I was particularly impressed with his note choice and phrasing. Each time he'd dig in for a solo he'd surprise me with his direction - his level of skill and ability to understate was masterful. 
Paige would growl in a sultry low whisper and then soar, bursting with a barely contained fury, her hands shaking, calling to my mind echoes of Ms. Joplin. There is something about her energy and delivery. 
Her voice is like a buttered bourbon. You know that she has listened to a ton of singers and like bourbon soaks into the barrel and comes back with some bit of the wood imparted, you have the sense when you hear Paige's voice that she too has blended her influences, her voice has a history in it, it's really something to hear. I even pulled out a bit of a Robert Plant influence from her.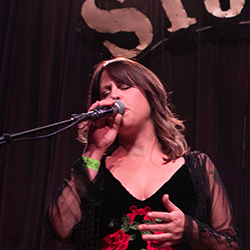 Then Jenna took the stage as the band quickly transitioned into the group's first original number. I have to admit I was completely spellbound, so much so that I forgot myself and the task at hand, bringing you this review. That may be the closest description I can provide though. Jenna's voice is a spell, and everything about the band's performance was in sync. You could lose the holiday rush, and really be present, right there, right then. I came to during the exceptional sax work from Sterling Steffen. He was killing it, like Lenny Pickett (the leader of the SNL band). 
Part of the fun of the night was having these two different takes on what a female-fronted band from Austin could sound like. Jenna and Paige have different approaches, both excellent. If Paige's voice is a buttered bourbon, then Jenna's is a Cabernet: dark cherry, warming, and bold. I know she is a jazz lover, and you get that, but what I really hear in her voice is the gospel side of soul. She has a really good command of bends and vibrato with warm presence and a great clarity of tone, like a cello, brightly played. 
A good group will have nailed the edges of dynamics, playing striking tonal contrasts. A great group will have that and, in addition, be able to play in the medium dynamics, the mezzo pianos and fortes. I felt it most when the band would do accents together. It was just pulled back enough, a few clicks back from a smack, the kick drum drove it home, and you felt it in your chest, in your heart. A real treat. 
Daniel strikes a Paul McCartney, Abbey Road type figure, with his thick beard, bolo tie and hat. That's an appropriate analogy as he is the writer, arranger, and band leader. He's like the untethered Sir Paul of Wings - on a wild 70s trek, living on a boat, making music for the world.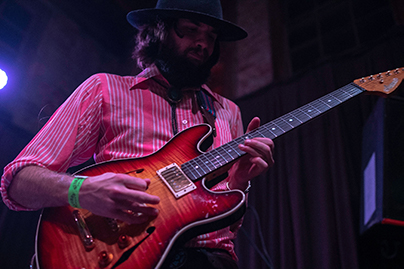 His chord instincts and writing are spot on, and he's really found the niche where the Watters fit. 
Their rock is balanced, steeped in soul, and truly optimistic. Occasionally they do pop out of the groove to revisit that harder sound that they had when I was first introduced to them. The two sides of the Watters make for a great set. 
The band brought several news tunes to the stage and if this is any preview of the next record, we are all in for a treat. They also brought their maturity and style to the Watter's older material. The hooks are there, covered in velvet so you don't quite see them until you are all in, body moving to a groove, and you weren't quite sure when you started dancing but you did and so did everyone else. 
Living in Austin it can be easy to take for granted how talented the musicians on stage really are - with the Watters, that's very likely, as every player is first and foremost playing in service of Daniel and Jenna's great songs. Yet each is a fantastic musician unto themselves. 
Bassist Joe Beckham, standing to Daniel's left, easily laid down a solid foundation for the group with a characteristically affable grin. Drummer Chris Copeland nailed some Clyde Stubblefield-style funky drummer intros and breaks, off placing the back beat in interesting ways. Noe Mina on trumpet took a number of well crafted solos drawing hard on the jazz side of soul and R&B. Saxophone and flautist, Sterling Steffen, the newest addition, played with fluid and dynamic phrasing, and his flute double was a surprise - especially as it was the heaviest groove of the evening. Finally, keyboardist and "Band of Heathens" member, Trevor Nealon, filled out the band's sound, comping ably on piano and organ, treating us to some well chorded and stated breaks, especially during the more New Orleans-style number.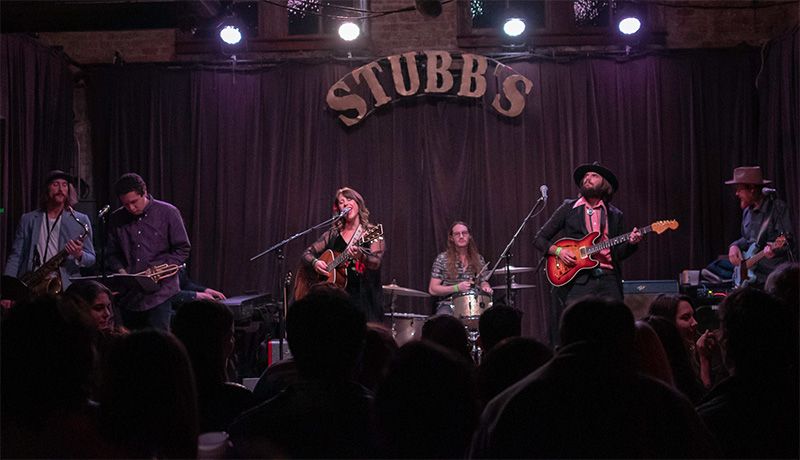 Photo by Riley Sklar
Daniel's vocal on "This Christmas" was really well done. It's probably the best vocal I've heard him do - the jazz chords of this Donny Hathaway tune seemed natural; the whole band has been leaning jazzier over time with their expanded harmonic language and increased focus on dynamic playing and different musical stylings. 
Near the end of the set Nick and Paige from the Reverent Few joined the Watters on stage for a couple numbers. Nick played some really great slide work on the first tune - mixing in his country fingerpicking and single line slide approach. Very tasty stuff.
Jenna and Paige traded verses on the second tune they performed together, which was yet another chance to see how differently and how boldly each treats their instrument: the voice. This combination of players felt like a real soul revue - with 9 folks on stage, nobody at Stubbs was afraid of dancing. Daniel capably lead the band of players to the final song of their set, which Jenna sang beautifully.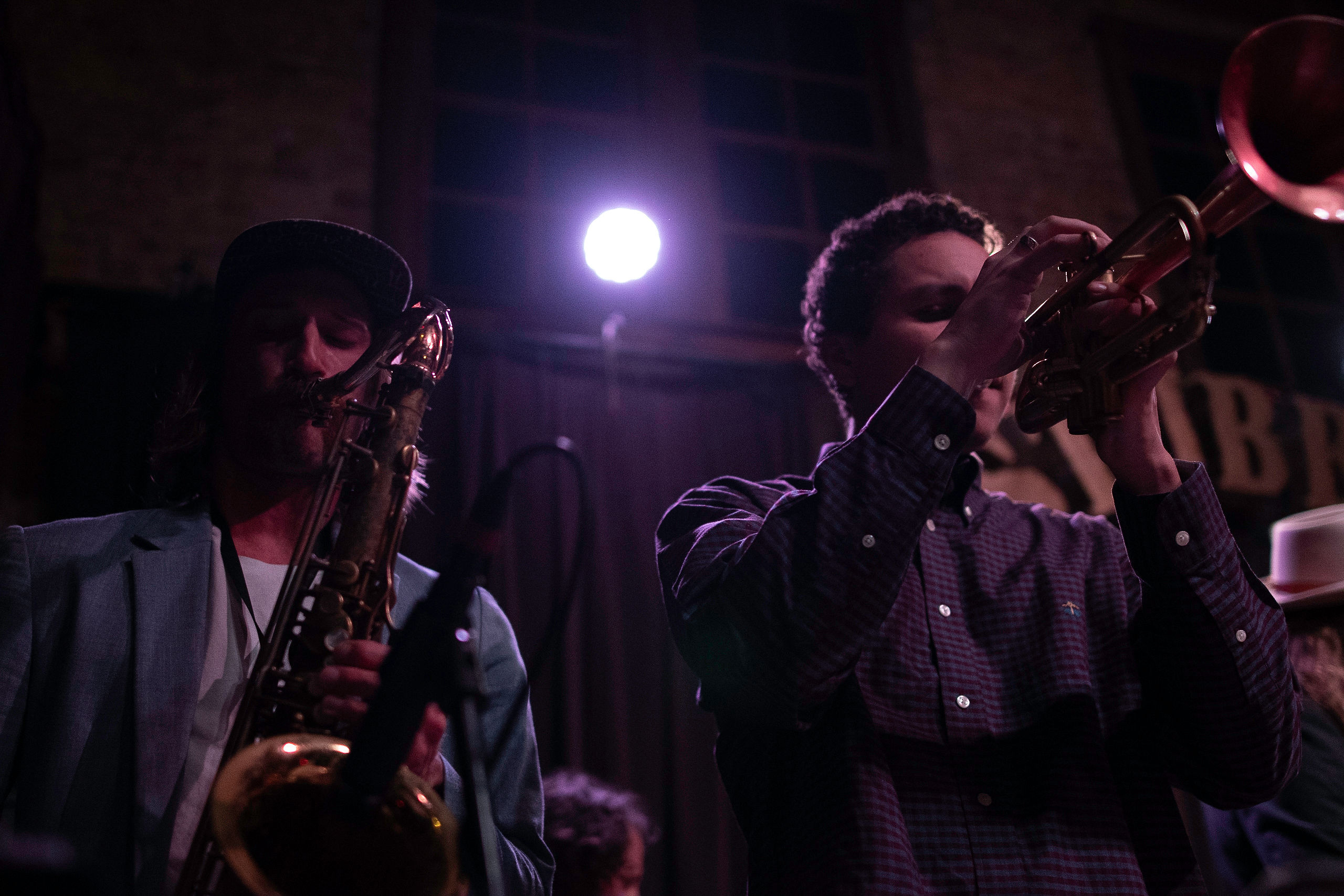 Honeymade closed out the evening at Stubb's indoors, which I regret I was unable to stay for - but from the small part of their set I caught, the brass sounded tight, the band was moving and so was the crowd. I am really looking forward to catching a full set as soon as possible. 
I always imagined becoming a regular was about was holding a space, being part of something, being welcomed and seen. What I hadn't known was that it's actually a frame. It's built up by what is known, what you know about a place, its people, and it opens up to the world around you. It's a chance to see things change, to know where they came from, to see not only the glamour but the work in it.  That's Paige in her four inch heels breaking down the drum set, that's Jenna singing her ever-loving heart out, six months expecting. In Austin, that's a window into the music scene. The hometown heroes aren't stodgy know-it-all mailmen and psychiatrist caricatures, but strong women and men, playing their best on chilly evenings in dim stone halls. So please, do yourself the honor, join me in becoming regulars. 
Happy new year, y'all! Looking forward to seeing you in Austin soon!
-- Photos by Riley Sklar: Photography at the forefront of Austin culture (https://www.rileysklar.com/)
The Watters: http://www.wearethewatters.com/
The Reverent Few: https://thereverentfew.com
Honeymade: https://www.facebook.com/HoneyMadeATX/
Stubbs: https://www.stubbsaustin.com/